C E R T I F I C A T I O N
MX3 Capsule is a food supplement that can help you boost your immune system. It works with healthy diet and exercises.
This is to certify that DMI Medical Supply Company Inc. is the maker and distributor of MX3 Food supplement products. Our MX3 products are all manufactured in a GMP Certified and ISO Certified manufacturing facility, ensuring the product's safety and quality. Furthermore, all MX3 products are distributed locally and Internationally. Channels of distribution are coursed through local pharmacies and local distribution outlets, and other authorized distributors outside the Philippines.
DMI takes pride with its leadership in the Food Supplement Category, having MX3 Capsule as one of the fast-selling MX3 products in the market. With worldwide distribution, DMI produced new packaging labels, especially for the US Market. As of today, Sunriser International Group Incorporated located in Union City, California, USA, is the main distributor of MX3 Products for the US Market. Sunriser is authorized to distribute and sell MX3 products, including MX3 60's Capsule.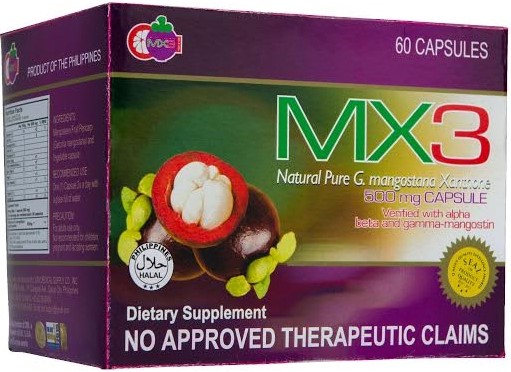 Philippine packaging
USA packaging
While most persons would be familiar with the Philippine packaging, DMI has a US packaging label for MX3 Plain 60's capsule which is recognized by US-FDA. Furthermore, the US label is differently captioned, bearing the words "MX3 Mangosteen Pericarp Powder Supplement Capsule." Even though they may have different label captions, both have the same content (Mangosteen Powder) and weight (500mg) extracted from Mangosteen Pericarp.
Rest assured, both product labels have the same product quality, product content, and with the same active component 'Xanthone' (antioxidant property found in Mangosteen Pericarp), ensuring the health and safety of all patrons of MX3 food supplement products as they enjoy the health benefits of MX3.
Visit site: MX3 Coin